Related Links:
Saturday, 20 September 2008
Searching servers has never been so easy: The new HLSW version 1.3.0 introduces the Global Serverlist View. The comfortable tree-system arranges all Internet game servers in handy categories. That will help you to find your desired server with just a few mouse clicks. Even your existing favourites are easily managed by the global view.

New features:
- Global Serverlist View (See demo video)
- Server Drag & Drop (See demo video)

New Games:
- Challenge Quake 3
- Frontlines-Fuel of War
- Far Cry

Bugfixes:
- Sporadic ping problems fixed
- Performance enhanced

For information about the bugfixes, additions and changes visit the changelog.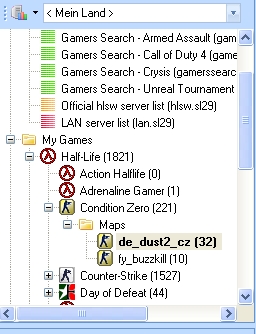 On Sep 21, 2008 Kissaki wrote...
yay, thx
let's try
On Sep 24, 2008 Peterson wrote...
yeah but in the administration tab i dont see the players list like i used to see
On Oct 4, 2008 fatality7_sam wrote...
Please can you add the READY SCRIPT LIKE THING for Counter-Strike which are mostly used in many tournaments ...
Or is there any way we can use it with HLSW ...please discuss
On Oct 4, 2008 razbiva4a wrote...
This comment has been hidden by an administrator
On Oct 20, 2008 DVEBMGS wrote...
sxe can not be recognized by the game when connecting CS with new version. still using 1.2.0 for this reason.
On Oct 29, 2008 BigNEO wrote...
This latest version does not seem to be working properly.

I saw somewhere that HLSW is blaming STEAM and STEAM is blaming HLSW.

The problems that I see is the timelimit is not working. When you try to change the rules, it does not go thru.

I don't really care who's fault it is, can it just get resolved, please?
On Nov 17, 2008 Gangis khan wrote...
I hate to say but nothing in the new hlsw works cant get log, cant change rules etc.. needs to be fixed or more user friedly.. the forums dont help at all. sorry my 2 cents
On Nov 17, 2008 Gangis khan wrote...
p.s. my version is 1.3.0.3... and spell check on friendly lol
On Dec 14, 2008 docvon wrote...
Admin Notificwation seems to have vanished?? Still in the Wiki.